Administrative Assistant Required
Administrative Assistant Required!!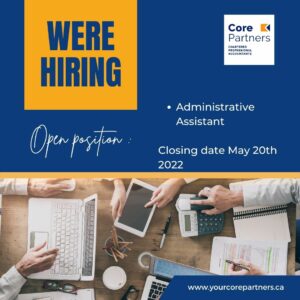 Core Partners Chartered Professional Accountants requires an administrative assistant for our office in Dawson Creek.  Duties to include front end reception, client contact, answering phones, billings, accounts receivable collection, filing and other related administrative duties.  Must be comfortable with computers, learning new programs and working in a paperless environment.  Experience with Microsoft Excel and Word an asset.  
You are a punctual, committed individual, excited to work in a great team environment.  You're willing to pitch in where needed without hesitation and strive to get things done in a timely manner.
Salary commensurate with experience and training.  Apply with resume, attention John Kurjata, CPA, CA, to #101, 1136 103 Ave Dawson Creek, by e-mail to jkurjata@yourcorepartners.ca.  Closing date May 20, 2022 with a start date of June 1, 2022.